Looks Like University Of Illinois - Bennett Williams
Robert
Feb 01, 2017
[]
[]
1 Comments
It has to be thrilling for a kid like Bennett Williams to wait and wait and wait for the Power Five offer to come along... and then finally get it. He's had offers from Group Of Five schools - Hawaii and Air Force and San Jose State and the like. But he never committed to any of them, waiting for that chance. Not even two weeks ago - two weeks before Signing Day - we offered him that chance.
This is how things go as you approach Signing Day. Some of the big schools are pushing a few guys out to make room (like that tailback South Carolina asked to grayshirt who then flipped to Iowa). Some guys committed to smaller schools see a spot open up at a Power Five school. And some guys, like, Williams, wait until the 11th hour and then finally see that big offer come through.
There's a connection to Williams with the coaching staff. Williams' father, Garey, played college football at Cal with Hardy Nickerson back in the mid-1980's. If Nickerson is anything like Lovie (and he is), they've probably kept in touch over the last 30 years. And now, Bennett will be a safety in Nickerson's defense.
I do think he was offered as a safety. Watching some film, I'm not sure I see a cornerback. When you watch, say, Tony Adams (verballed to the Illini in August), you can see a cornerback (it's the fluidity), but when watching Williams, I see safety. He'll probably be tried at both positions - when I left Training Camp in August, Stanley Green was at cornerback and he ended up starting seven games at safety - but I think he lands at safety.
Film is decent. He's not a plus athlete, so plus athletes never really jump off the screen. But he makes some solid plays. Really seems to high point the ball well when playing receiver (and when making an interception).
The best play on his film is unquestionably this one. It's the kind of thing you want to see a safety do. He's tracking the slot receiver, identifies the outside receiver sneaking behind him, spins around (without losing his balance), and makes the interception: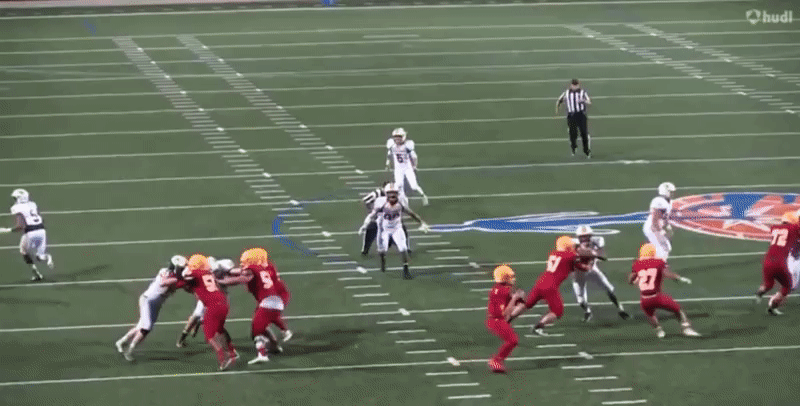 That's some good stuff. That you can work with.
The bad news - he doesn't appear to be a high-end athlete. He's clearly the best player on the field when you watch this film, but I think he's going to be limited by his lack of explosiveness. Of course, this is college football, and you can get away with the lack of over-the-top athleticism. You watch Nate Hobbs and you see that explosiveness (but maybe not the awareness); you watch Williams and see the awareness (but maybe not the explosiveness).
So as I try to settle on Tom Cruises, I think I'm going to have to go low. I think this is a project recruit. I think it might take several years for him to find the depth chart. He didn't have very many offers for a reason, and that always keeps the Cruises low. I'm not sure if this is a low for this class, but... I think I'm going to land on one and a half Tom Cruises.
Bennett Williams. 1.5 Tom Cruises.