Looks Like University Of Illinois - Dawson DeGroot
Robert
Feb 01, 2017
[]
[]
0 Comments
I keep a spreadsheet of the players we're recruiting. So I remember researching DeGroot back in the summer - maybe even in May. We had shown interest and I wanted to see what kind of player he was. The result of that research: LOVE. I'm a huge fan of this pick-up.
Football is a game that requires aggression. There need to be safeguards in place for some of that aggression (I agree with all "defenseless receiver" calls and believe that there should be more), but football still requires controlled aggression. The linebacker who hesistates is the linebacker who will never play.
I've watched enough practice in the spring and at training camp to know that players without that aggression will never play. We've brought in pure athletes before and asked them to play linebacker or safety and they just can't do it. They look like me out there - hesitant to really put a shoulder on someone. They wait for the tackle to come to them instead of flying full speed into the ballcarrier.
So the main thing coaches look for when evaluating a player for the back-seven of their defense is aggression. They're looking for Fej, mostly. Someone who will try to deliever the blow to the ballcarrier, not wait for the ballcarrier to deliver a blow their way. And I think Dawson DeGroot has that aggression in spades.
You know, like this: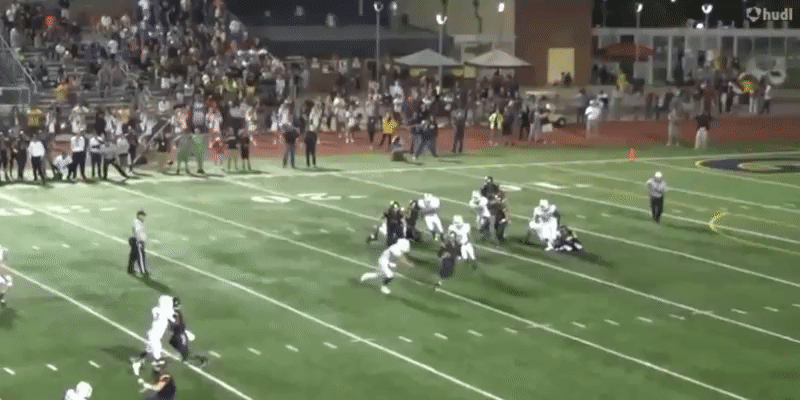 I know we're not supposed to enjoy hits like that anymore, and the celebration after borders on the Minnesota celebration when Malik Turner was hit, but this here was a legal hit. DeGroot came full steam towards a head-up ballcarrier and drilled the guy in the chest, causing his helmet to pop off (and causing the ball to pop out). Reminds me of the Nate Bussey hit on TJ Moe of Missouri. Perfectly legal. Aggressive.
(Also, how great is his teammate signaling touchdown?)
That's why I really like this pick-up. You can't teach that. In the NFL, yes, you have to have 99th percentile speed and strength for your size. In college you can get away with a little less athleticism as long as you know how hit. I think Dawson DeGroot knows how to hit.
So yes, I'm going to call him a poor-man's Fej. Which is funny because, recruiting-wise, Fej was a nobody who had to go NAIA out of high school. And now he's in the NFL.
I'm not saying Dawson DeGroot is headed for the NFL. Fej was a workout freak who could lift things heavier than anyone his size should ever consider lifting. If I'm ever trapped under a car, I want Fej to show up. So yes, DeGroot has a long way to go before he'd ever be that.
But he can still use that aggression to be a really solid college football player. We no longer have the Fej scheme (which is a shame because this kid would be perfect for the "funnel everyone to me - I'll tackle them" role), but I think Lovie can use DeGroot's physical play in other ways. It will take a few years - it took Fej until the end of his junior year before he broke through - but I really like this kid's potential down the road.
Tom Cruises. On paper, a kid who flips from Florida International is probably a 1.5 Cruiser. But I like this kid much more than that. In fact, of the three commits in the last 24 hours (Deon Pate, Bennett Williams, and DeGroot), I easily like DeGroot the best. Even if it's just "special teams crazy-man", I like bringing DeGroot on board. So I think that's a full Cruise bump from one and a half to two and a half.
Dawson DeGroot. 2.5 Tom Cruises.