Robert
Sep 27, 2023
[]
[]
15 Comments
I used to do this all the time. I'd allow myself to dream a little bit and present the "what if it happens?" case for a positive Illini season outcome. But we don't really live in a "disclaimer: this is an 'if everything goes right' article" world anymore. If you put it out there, you need to own it later. The days of "that was clearly just an article pointing to how good we could be if we fixed certain lingering issues" are over. We live in a bookmark world.
But, like, what if we win the Big Ten West? I'm not saying it's likely. We all just held our breath on a final drive against Florida Atlantic because if we would have had to punt it away, the entire stadium knew FAU would drive for the winning touchdown. If we do that against FAU, we're in big trouble in the Big Ten, right?
Maybe not.
We do have lingering issues to fix. They were obvious on Saturday. If we continue to football like we've been footballing, we're not going to win three conference games, let alone win the division. If turnovers, penalties, and failed conversions continue to dominate the headlines, this is probably a 5-7 season.
But those things are the most fixable. It's fairly difficult to take an offense that can't move the ball through four games (think 2017) and say "but if we can just start putting together long drives on offense, then maybe we can get on a roll." If you haven't moved the ball in the non-conference, you're probably not going to move the ball in conference play. Same for defense. If you can't stop anyone, you're probably going to continue not stopping anyone.
If your issue is shooting yourself in the foot -- if you're killing drives with penalties and turnovers -- then that's much easier to fix. You only have to clean up seven plays, not 70. And that's why I'm very "hmmmmm" as we play our first Big Ten West opponent on Saturday. I established yesterday that our luck has been bad. And today I want to establish that our issues are quite fixable.
Let's start with the I-N-I. The IlliniBoard NERDstat Index. I haven't compiled it since Week One so let's get back to it. I'm combining the Illini ranking after week four for the SP+ (Bill Connelly), FEI (Brian Fremeau), FPI (ESPN), and K-Ford (Kelley Ford).
SP+: 52
FEI: 50
FPI: 54
K-Ford: 52
Well that was the easiest math ever. Two have us at #52, one at #50, and the other at #54. I think the average here will be... 52.
So let's find the average for the rest of the Big Ten West. There's still a lot of preseason assumptions in these numbers (we're only four weeks in), but this gives us a good idea where the division stands. INI rankings for the Big Ten West:
Wisconsin - 25
Iowa - 39
Minnesota - 50
Illinois - 52
Nebraska - 67
Purdue - 70
Northwestern - 82
And just for good measure, our other two Big Ten opponents:
Maryland - 31
Indiana - 80
So we're #52. Our schedule has us playing the teams ranked 25, 67, 80, and 82 at home while we play 31, 39, 50, and 70 on the road. Given that next year's schedule (currently) has Ohio State, Michigan, and USC, I'm pretty much overjoyed at this schedule. In the next 20 years, if you can find me an easier final-eight-games schedule for the Illini, I'll buy you a car. Given that teams in next year's Big Ten are currently ranked 2, 4, 6, 7, 8, & 9 in the AP Poll, it's going to be basically impossible in the future to look at the upcoming schedule and see zero ranked teams in the final eight conference games.
Which is #1 on my "what if we win the West?" list. The division is more up for grabs than even last year. There won't be a "good" team that wins it. Wisconsin is the favorite, and they have the most talent, but they have not proven to be a "good" team yet (tied at halftime with Georgia Southern, lost to Wazzu, gave up 400 yards to Purdue's offense). No team in the West has proven to be "good."
Now we go back to what I mentioned at the top. The "fixable" stuff. Our issue so far has not been that we can't move the ball or that we're giving up 40+ per game. Our issue so far is that we keep beating ourselves. I can condense all of that into two simple stats:
Penalty yards - 112th nationally
Turnover margin - 126th nationally
That's out of 133 FBS teams. 112th and 126th.
Turnover margin I covered yesterday. You'd need to read the whole article to understand this statistic I'm about to give you, but here's the next thing on my hope list:
Expected turnover margin: +1.94
Actual turnover margin: -6
There's no other way to say it - we've been wildly unlucky. I know that makes some of you angry but it's true. Fumble recoveries - not fumbles, fumble recoveries - should be 50/50 and our opponents have recovered 8 of the 9 fumbles so far. Particularly painful: we've forced twice the number of fumbles as our opponents yet we've only recovered one while our opponents recovered all three.
Those numbers tend to balance out over a full season. So while you might say "we're lucky to be 2-2", I don't think that's the case. In fact, we're due for the luck pendulum to swing our direction in the next eight games.
The other part of this - penalties - well, that's 100% on us. You can maybe blame the officials if you want, but when we do this to take a touchdown off the board...
..then it's us. Hi. We're the problem, it's us.
How many times have we seen something like that this season? We stop Toledo on third down but continue their drive with a penalty. Gabe Jacas gets a third down sack against FAU but Xavier Scott got a holding call so it's an automatic first down. We've roughed passers and we've facemasked and we've shoved after whistles and we've ineligible-downfielded. Just can't get out of our own way.
But I'd rather have that problem than "wow, we punted nine times in that game." Killing drives with penalties is very fixable. Going 2 yards, 1 yard, incomplete pass, punt... is not. If you can't move the ball in September, you're probably not going to move the ball the rest of the season. If you can move the ball but keep killing drives by turning 3rd and 4 into 3rd and 14, you can absolutely fix that.
And that brings me to the next thing that makes me hopeful. It's the thing we discussed last week: success rate. A quick, one paragraph refresher: it's a simple look at individual plays to see if the offense "won" the play or the defense won the play. If it's 1st and 10 and the offense gets six yards, the offense was successful. If it's 1st and 10 and the offense gets 4 yards, then the defense was successful. It's a very simple way to see if you can move (and stop) the ball.
I included @statsowar's Success Rate charts for the first three weeks of the season when I wrote about this last week. Here's the chart for week four: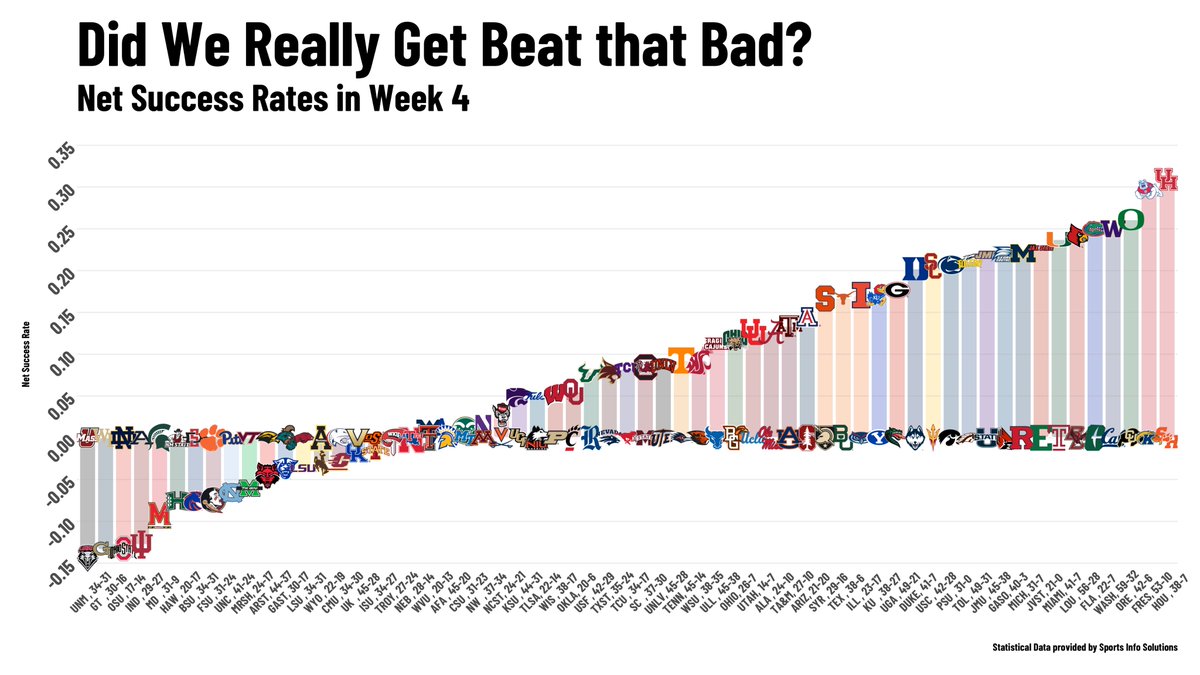 We dominated the individual offensive/defensive plays. And then turnovers, penalties, and field position struggles turned an easy win into a close game. 510 yards, 23 points.
(Other things to read from that chart. Indiana had no business beating Akron and Notre Dame probably should have beaten Ohio State. And Wisconsin didn't really outplay Purdue by much. That either means Purdue is a little better than we think or Wisconsin is worse.)
Parker Fleming (@statsowar) also puts out some advanced stats previews. Here's the one for Illinois-Purdue he tweeted today: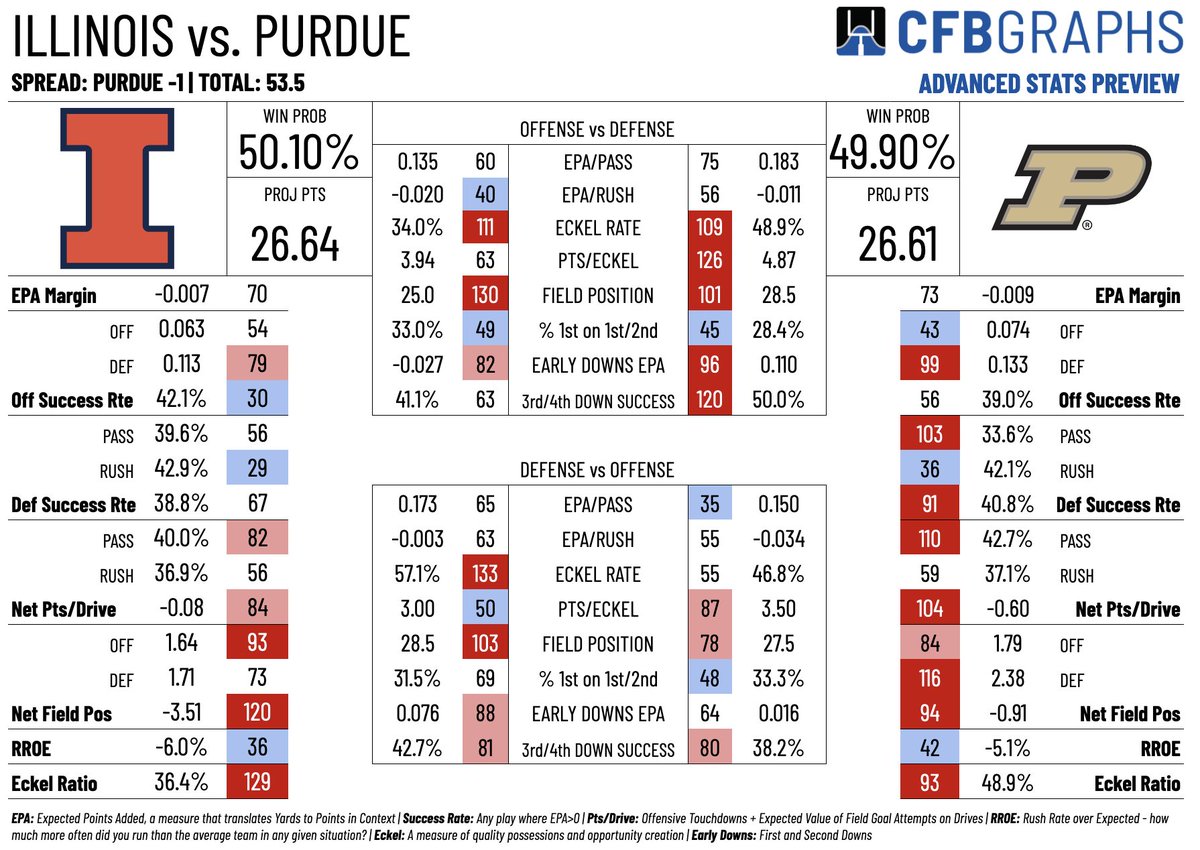 I don't want you to get lost in all of that. I'm here to be your tour guide. And before we start our tour, remember that A) we're only four games in and B) this is "guidance" kind of stuff, not "this stat definitively tells us these three things about Illinois."
Let's focus on "Eckel" (which Parker Fleming named for a Navy player who scored a touchdown at the end of the longest drive in college football history). That's a stat he uses for "quality possessions" (again, please think "guidance" here, not "absolutes.") He defines a quality possession as one that advances to the opponent's 40 or further. Red zone but... doubled. And to make sure he accounts for long touchdowns (you wouldn't want to call a 75-yard touchdown run a "non-quality possession"), he considers all touchdowns of 41+ yards "quality possessions."
On defense, we are 133rd out of 133 teams in allowing quality possessions. Once more since you might have missed that. The Illini defense is 133rd out of 133 teams in allowing teams to get inside the 40 on their drives.
("Oh my God, Robert. How is that possible? Is Aaron Henry just the worst DC in history or something? Dead last nationally in allowing opponents to advance past our own 40? Purdue is going to put up 650 yards.")
Slow down. Take a breath. Hear me out.
Want to know the easiest way to have a quality possession? Start your drive inside the 40. When FAU trotted out there after Luke Altmyer fumbled at the 28, DING, quality possession without running a single play. When FAU trotted out there after Hank Beatty fumbled at the 13, DING, quality possession. When Penn State trotted out there after Josh McCray fumbled at the 43, well, there wasn't a ding yet. They needed three yards for it to be a quality possession.
The Illini have 10 turnovers. Here's where the other team took over (and how far they needed to advance the ball for it to be a quality possession):
Toledo interception at their own 20 (40 yards needed)
Kansas interception at the 50 (10 yards needed)
Kansas interception at their own 33 (27 yards needed)
Penn State fumble recovery at our 43 (3 yards needed)
Penn State interception at our 37 (already a quality possession)
Penn State interception at their 43 (17 yards needed)
Penn State interception at their 28 (32 yards needed)
Penn State interception at our 30 (already a quality possession)
FAU fumble recovery at our 28 (already a quality possession)
FAU fumble recovery at our 13 (already a quality possession)
That's how we're currently 133rd out of 133 teams in allowing teams inside the 40. Seven interceptions and the three fumbles happened at our 43, our 28, and our 13. Turnovers are football.
We're very fortunate that we're 50th in "Points/Eckel." Allowing only 3 points per "double red zone" trip is fairly amazing considering all the times our opponents took over inside our 40. But thinking about how these games have played out, that stat makes sense.
Just look at Saturday. FAU recovers a fumble at our 28 but only gets 3 points. FAU recovers a fumble at our 13 but goes incompletion, incompletion, incompletion, interception. Penn State was +5 in turnovers but only scored 30 in the game. Bottom line: If you're gonna be dead last in Eckel, it really helps to be 50th in points per Eckel. Bend but don't break.
So what have we established so far? This is the easiest eight-game conference stretch we'll have for the rest of our lives. We have horrible penalty numbers and horrible turnover numbers but at least those things are fixable. In fact, turnover-wise, we should be +2 and instead we're -6. We've been moving the ball just fine - 30th nationally in offensive success rate - but we're not getting any points from our yards. Mostly because our offense keeps handing out Eckels to opposing offenses like they're Halloween candy.
That leaves one thing to talk about: field position. It's kind of the all-encompassing stat here. When you're doing all of the things we've done wrong, it's gonna show up in the field position numbers.
The defensive field position numbers we've kind of established already. We're 103rd in that stat mostly because the drives after the ten turnovers listed above averaged out right at the Illinois 47. When you're giving the opposing offense ten short fields like that, your average field position allowed numbers will be bad.
But why are the Illinois offensive field position numbers so bad? Why does our average offensive drive require a full 75 yards to reach the endzone? Three things, I think.
Poor kickoff return numbers. We've only returned nine so far, but the kickoff return average (17.56) is 88th-best nationally.
Four turnovers forced in four games. We just established how a defense that gets turnovers helps field position. Last year, we forced 31 turnovers in 13 games. This year, four in four games.
Poor 3rd down conversation percentage for the defense. We're 107th nationally in that stat. Which I'll call the "bend" stat. We might be fairly decent at not breaking, but we do a whole lot of bending. And even if the other team doesn't score, bending allows their punts to pin us deep.
That's the part that concerns me the most, if I'm honest. That one is less fixable. The defense has struggled to A) grab interceptions, and B) get off the field on third down. And those are the kinds of things that are really difficult to fix mid-season. I do think the fumble number will even out (we're not going to recover only one of the next six fumbles we force), but the interception numbers are very concerning.
We've reached the end of what I wanted to cover here. And you might be wondering - "Robert, why did you get me excited about winning the Big Ten West with the title of this article and then fail to get there when writing all of this out?" I've been saving that part for last.
When it comes to external factors - read that again, when it comes to external factors - I'm not sure I can recall a worse opening four games.
Kansas and Penn State are both 4-0 and ranked. Toledo is 3-1 with their only loss against us.
We've fumbled three times, lost all three fumbles, and those happened at our own 43, our own 28, and our own 13.
We have more passes defended than our opponents yet interceptions are 7-3.
Our penalty distribution is set to "devastating" apparently because we can't get a meaningless holding call at the 50. Several offensive calls have taken points off the board and several defensive calls have happened on 3rd down after a stop.
Using the PGWE, the "expected" scores for each game (meaning the average score when a game has those exact statistics): beat Toledo by 16, lose to Kansas by 3, lose to Penn State by 5, beat FAU by 17. We beat Toledo by 2, lost to Kansas by 11, lost to Penn State by 17, and beat FAU by 6. Everything that could go wrong, has gone wrong.
And we're 2-2 with no ranked opponents on the remaining schedule. Our quarterback is 6th in the Big Ten in QBR (and that after he's been dinged for all seven interceptions). Strength of schedule so far: 3rd toughest out of 69 Power Five teams. Strength of schedule remaining: 64th toughest out of 69 Power Five teams.
Or just look at this graphic from a newsletter I'm subscribed to. The Big Ten offenses so far, ranked by efficiency and explosiveness:
And this is where I point out that one of those games was against a top-5 defense the just held Iowa to 76 yards. If Michigan hadn't played such an easy schedule, would we have... do we... uh, what if we have the best offense in the Big Ten?
OK, yes, I'll pause and take a breath. I really don't think we're going to have the top offense in the Big Ten. But I will suggest that there's a chance we have the best offense in the Big Ten West. Wisconsin is closest (their logo is directly under Ohio State, as is Penn State's logo), and then every other offense in the West is less efficient and less explosive. The two reasons the fanbase doesn't see it like that:
Our tough schedule so far.
We're not scoring points at the end of our drives because of field position, penalties, and turnovers.
Look, I have no idea where this thing is going to go. I'm predicating all of this on "if we clean up the penalties and turnovers" and we just might not clean up the penalties and turnovers the rest of the year. The team we've seen the first four games might be the team we see the next eight games. We might continue to aim directly at our toes.
But if we do clean it up, the numbers are all there. Surprisingly efficient offense. Ridiculously easy schedule. Statistically imminent takeaways.
What if we win the West?